Software
Great care has been taken to make our software so simple that we think everyone can use it. We have found that even those people that have used spreadsheets, database tools, and even word-processors to organize their possessions often struggle with making updates, adding photos, or even printing their lists!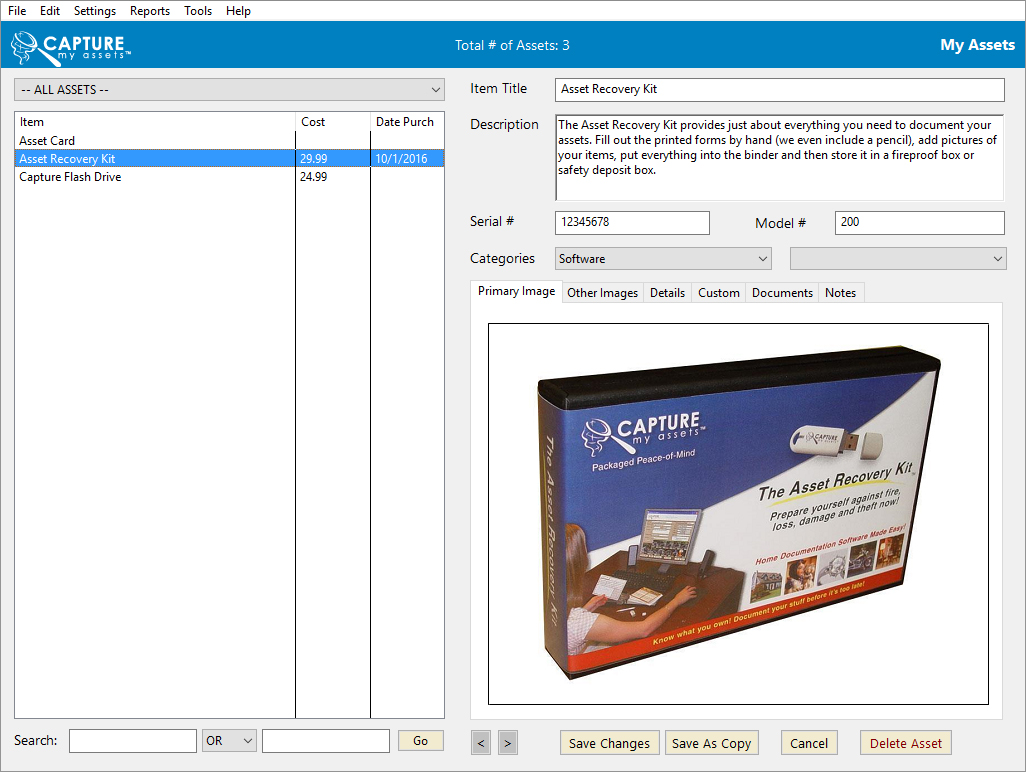 Version 4.07
has finally been released! The software has been rewritten from scratch (version 4) to offer more flexibility and compatibility with the latest operating systems*. Our software can be run on Windows and MacOS X!
Click here to buy the software now!
Features include:
Unlimited # of assets
The software has no maximum number of items that can be entered. The only limitation is the amount of space on the drive on which you are running it. For example, if you purchase the software as part of the Asset Recovery Kit then you receive it on a USB flash drive, which can handle over 600 items with multiple pictures each.
Multiple photos per asset
Up to 17 photos can be assigned to each item. There is a primary image then 16 additional ones for other views of the item needed for identification. Many people take a picture of their receipt or appraisals - each of the images are stored at a large enough size to allow zooming to be able to see the smallest of details that were captured.
Custom Labels and Fields
Over 25 fields to store all the related details for your assets with fully customizable labels
Multiple methods of classification
Organize your items by an unlimited number of locations, insurance plans, and categories.
Sorting and Printing
Use your locations, categories, insurance policies, and search functions to filter the list that is shown when managing your items or to output a web page that you can print or copy and paste as needed. Print 4"x6" pages of your photos or include the details of each asset to create a "combination" card to insert into your binder and double your space. You can also print a complete summary of all your assets or each individually to insert into a standard binder and supply to your insurance agent.
New in version 4.07 - printing now uses your browser to print HTML, creating more flexibility and stability for your reports!
Simple and Easy Interface
A consolidated interface to ease the view and entry of your assets. Your assets are displayed in a list on the left side, allowing you to quickly find an item and enter its details.
Backup and Restore Tools
Your assets are now stored in a database, consolidating the amount of files needed for the system. You can backup and restore unlimited copies of your data, simplifying the management of multiple sets of inventory.


Screenshots
Click the thumbnails below to view the various screens of the software:

Asset Recovery Kit
The Asset Recovery Kit provides just about everything you need to document your assets. Fill out the printed forms by hand (we even include a pencil), add pictures of your items (we don't actually provide a camera), put everything into the binder and then store it in a fireproof box or safety deposit box.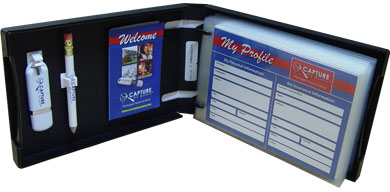 The computer user can use the included copy of the Standalone software (provided on a USB flash drive) to transfer their list into an electronic form for sorting and reporting.


A Flash drive with software
A 256MB USB-flash drive that includes both the Microsoft® Windows® and Mac OS X® versions* of the Standalone software and an associated Serial # for activation. The software runs directly from the drive and does not require any installation.
Sleeves and forms
1 printed form to record your personal and primary insurance company information; 25 printed forms to record your hand-written asset descriptions; 26 vinyl sleeves to protect your photos and forms
A "Getting Started" Guide
A mini-brochure highlighting the steps to get started with the process of capturing your assets.
A Binder to hold everything
A plastic binder holds everything you collect and fits in a safety-deposit box.
A pencil to complete the package
We even include a pencil so you have everything needed!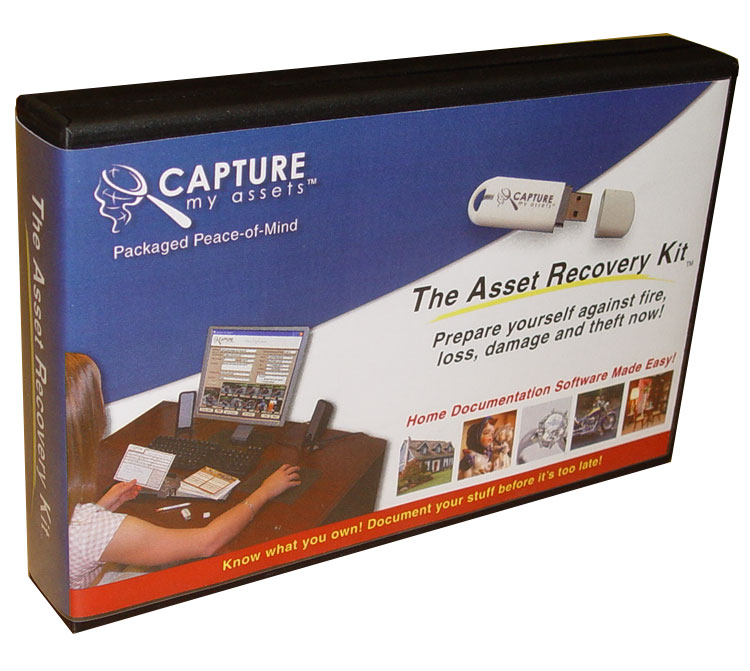 Click here to buy this product now!
*In order to use the software you must be running one of the following:
Windows: Microsoft® Windows 10®, Windows 8.1®, or Windows 7® (both 32-bit and 64-bit versions are supported)
OS X: macOS Sierra 10.12.x, OS X El Capitan 10.11.x, OS X Yosemite 10.10.5, OS X Mavericks 10.9.5, OS X Mountain Lion 10.8.52, OS X Lion 10.7.52
Microsoft and Windows are trademarks or registered trademarks of Microsoft Corporation in the United States and/or other countries. Mac® is a trademark of Apple Inc., registered in the U.S. and other countries.